You won't have to go out anywhere as the drug will be delivered to your doorstep. Synthroid online costs much cheaper compared to the same quality drug in any local drugstore. What is the reason? Everything is simple! Online pharmacies don't have so many expenditures, which reflects on their prices making them quite reasonable. www.synthroidonline.net.
Women Seen and Heard Speaker's Journal
NOW AVAILABLE!
I so appreciate your interest in the blog posts I've written about gender and rhetoric that emerged from WOMEN SEEN AND HEARD (Lois Phillips and Anita Perez Ferguson, Luz Pub, 2004). Building on what we learned from our research and consulting experiences, Anita Perez Ferguson and I have just published another book, WOMEN SEEN AND HEARD SPEAKER'S JOURNAL: Workbook & Templates, which is also available as an E-book. The Templates were specifically designed for women to allow them to easily organize their unique content into a flawless presentation. The SPEAKER's JOURNAL provides templates for 9 types of presentations they might deliver, from the Informational, Inspirational, Persuasive, and Humorous presentations to the "Small Wins" Briefing, and even a Cheat Sheet for delivering a perfect Wedding Toast! Given how busy women are today, these templates will save time and force focus. The book endorsements from stellar women (three examples below) motivated us to get this book out pronto, particularly after the revelations emerging from #METOO and #TIMESUP phenomena. Click on any of the links below to order your copy today!
Freedom of speech is a right, so I hope you take advantage of it in your sector, whether business, education, government, or politics.
Warm regards,
LOIS PHILLIPS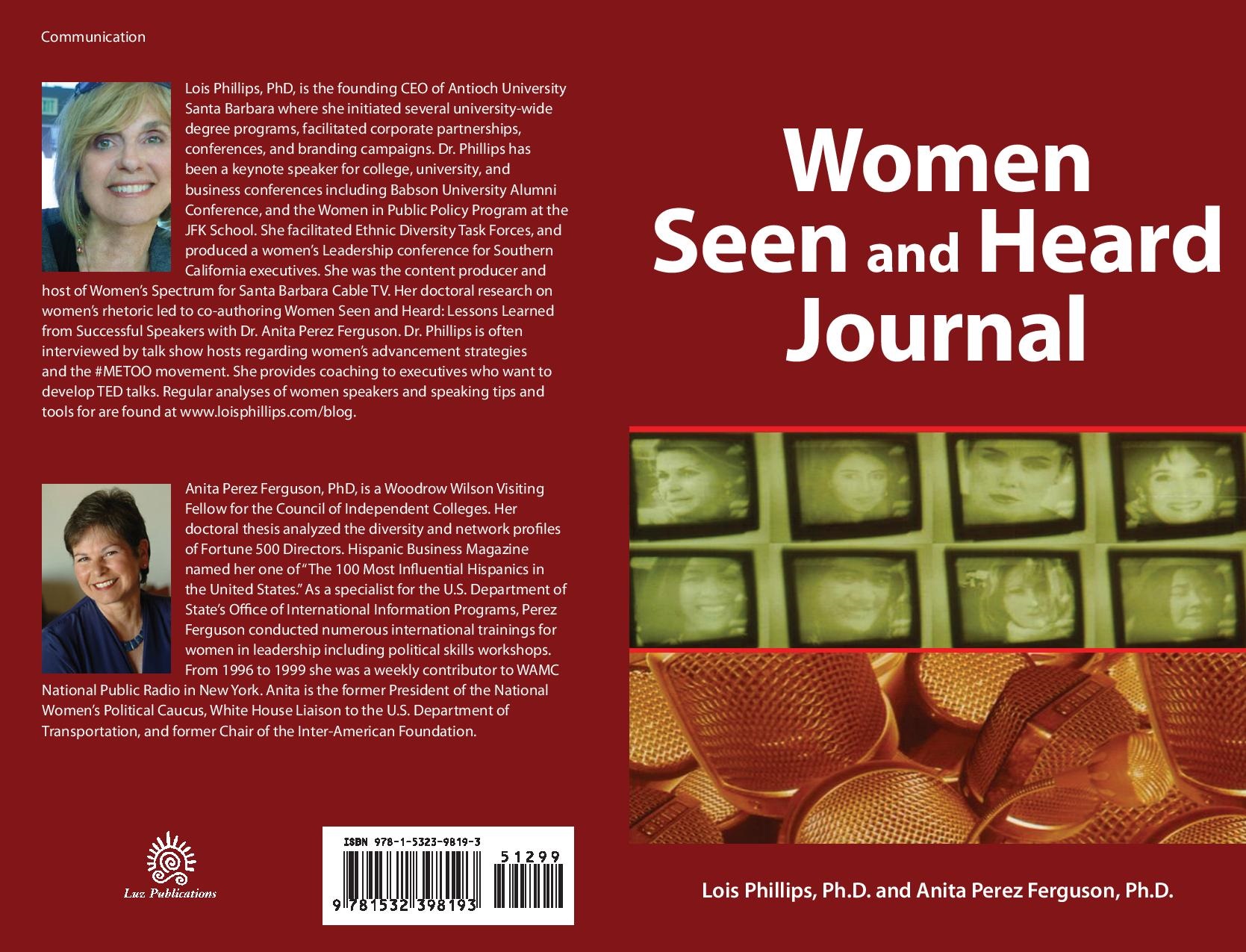 The Women Seen and Heard Journal: Workbook and Templates provides women readers with the opportunity to explore the basis for any reticence they might have as public speakers. The Journal will develop self-awareness with regard to her own values, interests, ideas and opinions. There are more opportunities for women to advance into leadership roles, but for women to become leaders, they need to develop mastery of presentation skills in a range of situations, to include speaking up in business meetings to presenting a formal presentation at a conference, pitching to investors or donors, or running for office and speaking to the press. The chapters provide prompts that will allow each woman to respond privately -in her own separate journal- as she explores her family/work/travel history and how that affected her communication skills. Chapters focus on a woman's role models, assertiveness, authenticity, gaining credibility at the podium, and preparing for a career as a professional speaker. The Templates provide fool-proof worksheets for organizing 9 different types of presentations. The authors are professional speakers with media experience and share what they know from their own experience and coaching others.
Click here to buy from Amazon.
Click here to buy from Barnes & Noble.
ENDORSEMENTS
"When it comes to corporate business as of 2018, only 4.8% of Fortune 500 CEOs are women. How can this be? Having vision and intellectual ability are not enough for women to attain high level corporate management positions anywhere near parity with men. CEOs require a particular skill set that include presentation and self-promotion skills and a forceful delivery style, leadership qualities that woman are historically less comfortable with. Specifically, it seems to me that most women are not socialized to be unapologetically competitive.  To advance, women need insight into ways to convey strength and command. The Women Seen and Heard Speaker's Journal gives invaluable insight and many chapters of thoughtful written journal exercises that will provide women with everything they need to attain their leadership goals.
— Joanna Klein, 20 year TV Development Executive and TV Executive Producer
"Campaigns are a great training ground for women candidates who are forced to engage in difficult debates, address controversial issues and compete for voters' support, but campaigns also require that one speak forcefully about one's intellectual and emotional capacity to lead. This is new territory for women who have historically been more comfortable being backstage rather in the spotlight. Responding to the prompts in each chapter of the Women Seen and Heard Speaker's Journal will foster self-awareness and self-confidence, helping women overcome any reticence they might have about asserting their opinions and ideas in public venues. We need more women to have "a place at the table," and when they are elected or appointed, to become a force for social policy changes that will benefit everyone. The political path is not an easy road, and dynamic speaking skills are essential for every woman's success."
— California State Sen. Hannah-Beth Jackson, D-Santa Barbara

"Dr. Phillips and Dr. Ferguson's book is a timely and valuable resource for women in all fields – whether in politics, public or private sectors.  A record number of women won elections across the United States in 2018, making it the so-called 'Year of the Woman.'  However, we still see that women have to earn respect and credibility as speakers, and women continue to face a number of complicated dynamics and stereotypes as speakers.  The Women Seen and Heard Speaker's Journal is a clear, concise and strategic guide for women preparing presentations, speeches or testimony. The WSH Journal is the resource to assist women in becoming 'the voice of authority' in their presentations."
—Kelly Scott, Chief Deputy District Attorney, Santa Barbara County
"Women face many hurdles in the political arena: deciding whether to run, getting their message out as candidates and being heard once in office are among the most difficult. Women often enter politics to effect social justice and propose new public policy. The greatest challenge facing women is being willing to stand up for what we believe in and advocate for our issues. We can do this by developing our own authentic voices. Lois Phillips and Anita Perez Ferguson have written a masterful text that takes you on a trip using self-examination. The Women Seen and Heard Speaker's Journal provides specific strategies and successful delivery skills that will enable women to use their voices and become more effective leaders. This is a must-read for all women entering the public square."
— Hon Susan Rose, Former Board of Supervisors Santa Barbara, California; Founder Santa Barbara Women's Political Committee
WOMEN SEEN AND HEARD: LESSONS LEARNED FROM SUCCESSFUL SPEAKERS
Lois Phillips, PhD and Anita Perez Ferguson, PhD; Luz Publications, 2004.
Lois Phillips doctoral research confirmed what her communication consulting practice suggested: women speakers in leadership roles – more so than men–need to gain credibility as 'the voice of authority' before they can convince anybody about anything. Stereotypes about women's intellectual capacity to lead organizations in top leadership roles can create skepticism in the audience's mind about whether she is tough minded enough for the job, and distract from truly hearing and remembering the content or her message. The good news is that motivated speakers can learn to improve quickly from coaching, video-feedback, and reading WOMEN SEEN AND HEARD: LESSONS LEARNED FROM SUCCESSFUL SPEAKERS. Interviews with executive and political leaders who are dynamic presenters provided the basis for techniques to overcome any audience skepticism that might exist. Tips, techniques, and helpful worksheets help women prepare their presentations, whether advocating for a social program, informing colleagues, pitching to investors, or presenting controversial material to a formal audience and the press. Lois has spoken about her research to students, alumni, and faculty at Harvard's JFK School, Babson College MBA Alumni, and UCSB (See Testimonials)